In Memory
Charles McPHERSON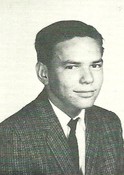 Charles (Charlie) lived in Irving, Texas and was an automobile salesman. He adored his daughter and loved hunting and fishing. Charles passed away November 27, 2008.
He is survived by his daughter Monica McPherson; sister Johnnie Ballard; brothers Jim, Donald R, Michael D., and Ricky P. and numerous nieces and nephews.
Charlie, Jimmy Honzell, Jimmy Wells and Archie Reynolds all went to Douglas Elementary together.