In Memory
Kenneth Carpenter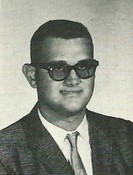 Kenneth (Ken) Carpenter, Jr., age 66, passed away in Arlington, Tx. August 22, 2013. Graveside service was held Aug. 31, 2013 in Memorial Gardens in Arlington with Pastor Bennie Portwood officiating.
Kenneth was born May 1, 1947, in Tyler, Tx.. He was a 1965 graduate of John Tyler High School and later a graduate of Tyler Junior College. He retired from Kelly-Springfield/Goodyear with more than 30 years of service. He was a member of Glenview Baptist Church in Fort Worth, Tx., and a former member of Green Acres Baptist in Tyler.
Hobbies included his grandchildren, attending Dallas Cowboy games, Texas Ranger games, Dallas Mavericks games and traveling.
He is survived by his loving wife of 46 years, Sue Ann Carpenter; son, Kenny Carpenter and wife Aleasha, two grandchildren, Victoria and Andrew Carpenter, and brothers, David Carpenter and wife Irene, and Lynn Carpenter and wife Valerie.
A memorial service will be held Sept. 21, 2013, at 10 am at Mount Carmel Baptist Church in Whitehouse, Tx.