In Memory
Judy Chadwick Aiken (Warren)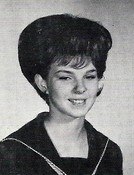 Judy Chadwick Aiken Warren passed away January 29, 2006 following a lengthy illness.
Judy was married to Kenneth Warren. She was a Cosmetologist for 30 years having owned and operated the Londonaire and worked for Chelle salon for the past 13 years. She was a great spirited women and touched many lives along the way.
She is survived by her husband Kenneth; daughter Amy Aiken McAnear and husband Daniel; stepdaughter Linda Pierce; grandparents George and Ruby Aiken; sisters Debbie Aultman, Karla Aiken Helms, Tina Saxon, Carolyn Rice, and Pam Steinback; brother William Aiken; brothers-in- law Darrell Warren, Joe Warren, and Earl Warren; step-grandchildren Robby Schmidt, Jessica and Jacob Pierce; numerous neices, nephews, cousins, and friends.