In Memory
George Ferrell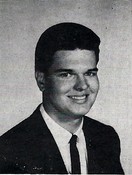 George K. Ferrell, 64, of Greenville, TX. passed away December 28, 2010, at his Greenville Club Lake home, surrounded by his family and friends.
A memorial service was held at 2p.m. January 22, 2011 at North Lake Drive in Greenville.
He was born December 3, 1946 in Tyler, Texas to Charles and Jean Ferrell. He grew up there and attended Tyler Junior College.
He worked in International Logistics in Dallas until the mid !970's when he moved to Greenville. There, he worked for the American Tobacco Company before working for Fanci Candy until his retirement in 2008.
George never met a stranger and was always the life of the party; actually he was the party.
He enjoyed traveling, antiquing, and Canton First Mondays. He loved animals and nurtured many strays throughout the years.
George was preceded in death by his grandparents and his parents. He is survived by his lifelong friend, Jim Shaw of Willis, Texas; his extended Club Lake family: Debbie Cueto, Jim Ed, and Paula Moore, Dean and Mary Sue Gantt, and Jeanne Kirby; Betty and James Williams of Greenville; Sheila Turner of Greenville; Danny Watson of Greenville; Lance Atkins and Robert Hahn of Alba; and his furry companions Tommy, Spike and Sidney.
Memorials may be made to the SPCA or the American Cancer Society.
Arrangements are under the direction of Lynch Funeral Service in Greenville.
This obit is from the funeral home.