In Memory
Stuart Nissen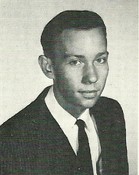 Stuart Gail Nissen was born January 12, 1947 and passed away on September 13, 2006.
He was preceded in death by his parents, A.H. "Whitney" Nissen and Martha NcNew Nissen. He is survived by a brother, Joel Nissen.
He served his country by Joining the United States Air Force and serving in Vietnam.
He was buried at the Dallas-Ft. Worth National Cemetary in Dallas.
He was a beloved Dad and Brother