In Memory
Sonda Sebring (Torres)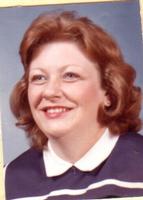 Sonda Lou Sebring Torres passed away on February 22, 2012 after a courageous four year battle with cancer. She was a dedicated mother and a loving grandmother. She was born in Tyler, TX on September 19, 1946 to William Oscar Sebring and Billie Louise Payne Sebring.
Sonda moved to Brownsville in 1969 to teach for the Brownsville Independent School District. She began her 38 year career at Cromack Elementary then Putegnat Elementary. Her desire to teach History led her to Faulk Junior High. After several years at Faulk, she became the head of the History Department at the newly opened Besteiro Middle School. After more than ten years at Besteiro, she concluded her rewarding teaching career and retired. Sonda used this time to enjoy her children and ever expanding number of grandchildren.
Sonda is preceded in death by her father, William O. Sebring her mother, Billie Louise Sebring her brother, John Manly Sebring motherinlaw, Maria del Carmen Torres and grandson, Billy Joe Menard Jr. She is survived by her sisters Barbara June Lewis and Wilma Kay Rash and her brother Michael Van Sebring her children Carmen Louise Billy Joe Menard, Sonda Kathryn Torres, William Emanuel Tina Torres, Emanuel Daniela Torres Jr. her grandchildren Eva, Megan, Joshua, Darien, Tanya, Shane, Emanuel III, Katherine, William II, Ania, Sarah, Jack, Emanuel Guillermo, Bailey and Haidyn her greatgrandchildren Esteban, Xandria, and Sophia her sisterinlaw, Yolanda Torres her brotherinlaw David Debbie Torres and several nieces and nephews.
Sonda was involved in numerous groups and organizations including the Knights of Columbus Ladies Auxiliary, BISD UIL, Girl Scouts of America, and from 1970 until shortly before her death, was an active member of the Immaculate Conception Cathedral.
Sonda would like to thank the Texas Oncology Center, Dr. MartinezOHara and Nurse Cyndi the wonderful nurses in the Infusion Center, Sylvia and Angie, for the special care they took of her at the onset and during the progression of her cancer. She would also like to thank her friends who helped her through these trying times especially Alice Abbott, Tina Legault, Mary Olivares, Kathy Stan Raines, Sally Trenfield, Carol Armendariz, Robin Trigg Garrett, the ladies of the Thursday night Bible Study Group, and many others too numerous to mention. Her family would like to extend their sincerest thanks and gratitude to the nurses of Odyssey Hospice, Juan, Miriam and Natalia, and others, to Ed Matthews, Chaplain, and to the staff at Sunshine Haven Comfort Home, especially Maria and Chana with your care you made our mothers final days the best they could be.
A mass was held on February 29, 2012, 5:00pm at Our Lady of Guadalupe Church in Brownsville, TX. In lieu of flowers, donations may still be made in her name to Sunshine Haven Comfort Home, P.O. Box 4478, Brownsville, TX 78523.
[Thanks to Carolyn Kent Hugley who discovered Sonda's Obituary and provided the linked to us. She is a Guest on our page for some time and is a former Hogg JHS classmate of Sonda and others of us who attended Hogg.]
Entered by Ramon Ivey