In Memory
Cynthia Towns (Barnes) VIEW PROFILE
It is with deep sorrow that we announce the death of our dear classmate and Friend Cynthia N. Towns Barnes of Tyler, Texas, who passed away on January 9, 2022, just short of her 75th birthday on January 21st. The service will be Friday, January 14 at 10 at Stewart Family Funeral Home on Old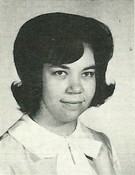 Jacksonville Hwy in Tyler with burial at Cathedral in the Pines Cemetery on South Broadway in Tyler. Visitation will be from 9-10 prior to the service. Thanks to Elaine Johnson Harris for notifying me and to Cynthia's sister Cecilia for providing the obituary information.
Some of you met Cecilia who came to Bruno's with Cynthia. Please join us in showing the family our condolences and love for Cynthia as we say goodbye to another classmate and lifetime Friend.
Click here to see Cynthia's last Profile entry.