In Memory
Carolyn Stripling (Armstrong)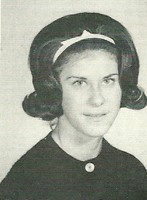 CAROLYN PASSED AWAY UNEXPECTEDLY DECEMBER 26, 1999.
HER LOVE AND PASSION FOR HORSES WAS UNDENIABLE.
SHE TOOK MUCH COMFORT AND PEACE IN RAISING THEM.
CAROLYN LOVED ANIMALS OF ALL KINDS AND RESCUED
ANY WAYWARD DOGS AND TOOK THEM IN.
SHE WAS A FRIEND TO ALL. SHE WAS LOVED AND IS MISSED
BY EVERYONE WHO KNEW HER.
SHE IS SURVIVED BY HUSBAND DOUG ARMSTRONG OF
ROYCE CITY. MOTHER VIVIAN STRIPLING OF TYLER AND
BROTHER JIMMY STRIPLING OF ROYCE CITY AS WELL
AUNTS, UNCLES AND COUSINS.
SHE WAS PRECEDED IN DEATH BY HER FATHER
CARL STRIPLING